SignCut Pro 2 Features
The most efficient and flexible professional sign making software made for beginners, personal users, hobbyists and professionals.
Get Started For Free!
Our capabilities are more than just beyond sign-making.
SignCut Pro 2 is highly up-to-date and designed to adapt to the latest operating systems for both Mac and Windows.
Download and get the free three weeks trial now!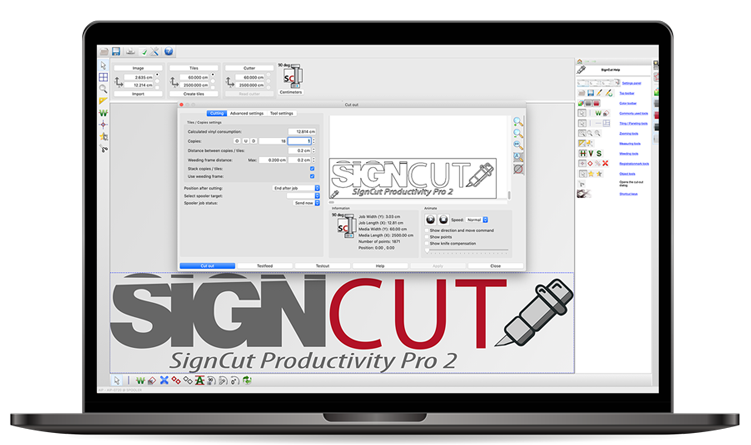 Our capabilities are more than just beyond sign making.

Colour Separation
Different colors in your design are separated according to the vinyl's different colors. For each color layer, you can add weeding lines and select suitable registration marks for easier mounting.

Contour Cutting
You can contour cut any printed graphic. It supports with and without diecut/perfcut for Summa and Roland as well as Graphtec and Saga ARMS, GCC and SkyCut contour cutting.

Advanced Tiling
When the design is wider than the material width, use the Tiling tool for splitting up the design into suitable tiles. You get both manual and automatic tiling.

Alignment Marks
Alignment marks are used for mounting of large signs divided into tiles as well as for multiple colored signs. It makes the mounting of signs quicker and more accurate.
Object Manager
With Object Management, the cut out can be controlled in detail, define cutting order, cutting speed, cutting pressure, perforated cutting, number of laps and choice of tool for single/multiple objects or color/s.

Step-by-Step Cutting
Prevents slipping of material by prefeeding material out of roll slowly and ensures accurate and safe cutting over long distances. SignCut Pro 2 is the first software to support step-by-step cutting for both length and width.

Available 20 Languages
Chinese, Czech, Danish, Dutch, English, Estonian, Finnish, French, German, Georgian, Hungarian, Italian, Lithuanian, Norwegian, Polish, Portuguese, Romanian, Russian, Spanish, Swedish.

Export Plugins
Export your graphic artwork through SignCut Pro 2's export plugins. Send your work directly from Adobe Illustrator, Corel Draw and Inkscape to SignCut Pro 2 when it is ready to cut out.

One Account, Multiple Computers
It allows you to simultaneously manage multiple cutting jobs with multiple cutters. This gives you the possibility to select which cutter you wish to send your work to and define specific settings for the specific work.
"An ever-increasing number of people became aware of SignCut's exceptional qualities, shown by an incredible growth of subscribers."
Since 1988, SignCut has been continuously being developed with first-class drivers for more than 1,200 cutting plotters by close cooperation with its users to offer unique abilities in saving time and material.
KJELL JANSSON
CEO, Whisqu Graphic AB
Frequently Asked Questions
Is it possible to do contour cutting with SignCut?
Yes, you can contour cut using SignCut. We support multiple contour cutting system. The most common contour cutting is by using 4 registration marks both with and without a laser. But also, Summa contour cutting with and without die cut/perf cut. Roland with and without die cut/perf cut, Graphtec ARMS, GCC contour cut and Saga ARMS.
Can I try SignCut Pro 2 for free?
Yes. To get started, you may download it here. Once downloaded, just run the installation, enter your information and your account will be activated and preloaded with three weeks use.
Do you offer any support for your software?
Yes, you can contact us through live chat, support desk and/or email. Our live chat can be found on our website in the bottom right corner.
Do you have any plugins for SignCut Pro 2?
Yes, we have plugins for the most popular design software such as Corel Draw, Adobe Illustrator and Inkscape. You can also use our own design software SignCut Draw that is included with SignCut Pro 2 and has a direct export feature. Learn more about SignCut Draw here.
How do I upgrade an older version of SignCut to Pro 2?
If you want to upgrade from an older version of SignCut (i.e. Signcut 2002 or SignCut x2), just contact our support and we will assist you. If you are currently using SignCut Pro 1 you may refer to this video.
Get to know the basic setup and feature how-tos! Watch our quick training videos. These easy-to-follow videos will get you started in no time.
Get the help that you need. If you are having setup difficulties, you are more than welcome to visit our helpdesk portal or just send us a ticket!
Download To Get Started
Get the latest version of SignCut Pro 2 now.